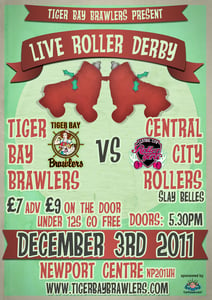 £

7.00
Brawl I want for Christmas
Tickets available on the door
After a storming first season on the roller derby circuit, Cardiff's Tiger Bay Brawlers are set to take on Central City Rollers' B Team, the Slay Belles. Brawl I want for Christmas will be held in the Newport Centre on Saturday 3 December and will be the Brawlers' last bout of 2011.

Since making their bouting debut in January 2011, the Tiger Bay Brawlers A Team has played eight public bouts and notched up six wins; a phenomenal record for such a young league. They were the first roller derby league in Wales to be affiliated with the UK Roller Derby Association (UKRDA). The Brawlers recently debuted their B Team and are looking to expand the league with the implementation of a rolling recruitment programme.
Tiger Bay Brawlers vs. Central City Rollers' Slay Belles is on Saturday 3 December at Newport Centre, Newport, NP20 1UH. Doors open at 18:00 with wheels in motion at 18:30. Information are available from www.tigerbaybrawlers.com. Tickets are £7.00 in advance or £9.00 on the door (under 12s go free).
Please note there are no physical tickets - your name will be on the door with the number of tickets purchased. Please bring your Paypal receipt as proof.
We do not offer refunds on tickets.
ONLINE TICKETS HAVE NOW FINISHED. tickets avilable on the door